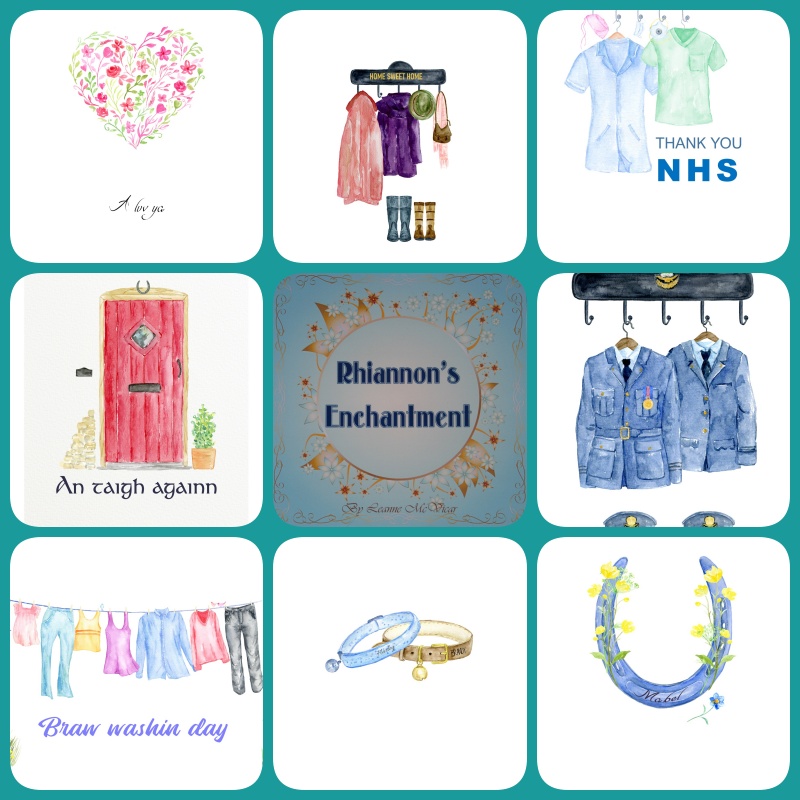 Concept art is an illustration that conveys an idea - suggests what's on our mind and create this impression using pictures.
I have been using watercolour artwork to digitally create personalised pictures for you within specific themes:
Togetherness Prints – Create the suggestion of being together with our loved ones in a picture
Home life prints – An impression of your home life
Lyric Art - Celebrating songs and lyrics with a nod to great musical artists.
Gaelic Wording – Wording added in Gaelic or Scot's dialect is keenly welcomed and always encouraged
Landmarks – Landmarks (mainly from Edinburgh) recreated into watercolour
Some of the styles currently available:
Family Coats on hooks
Clothing on the washing line
Doorways / New Home
Pets collars / Pets
Horseshoe / Good luck or for your horse
Lyric art
Hibs / Hearts / Football shirts
Home life
Police / Medical / NHS / RAF / Spitfire
Schools / Teachers / Graduation

Yoga / Meditation / Horoscopes / Moon / Planets
Unicorns & Kelpies
Scottish Landmarks
Seasonal themes
Musical instruments
Motorbikes / pedal bikes
The list goes on with more ideas coming soon.

Personal Orders and commissions available. Please get in touch to discuss your needs
Prints available in sizes A4 and A5. Framing available on request at additional cost
Much of the watercolour illustrations are created by Cheng Jing, Corner Croft Art and used with permission and under licence. Artwork recreated from photographs taken by myself and Willie McVicar, Caledonia Rex. Design and production by Leanne R. McVicar